After my break last week, it's back to work, and for me that means back to editing a novel. Last time, I wrote about my initial read-through of the first draft, and the copious notes I was making. This time, I'm moving onto the nitty-gritty of making sure each individual element of the novel works – and how to fix the bits that don't.
I've already looked at the plot arc of the novel, and ascertained that it more-or-less works (using a handy synopsis-making tool in Scrivener, which I may cover in a separate post). For this particular novel, I've found it more important to look carefully at my character arcs: I have five POV characters, and I want to do my best to make sure their growth throughout the novel is consistent and, hopefully, satisfying.
To do this, I've turned to spreadsheets. Not the most thrilling method in the world, perhaps, but laying out each character arc in sequence has been very useful, allowing me to see where individual arcs have perhaps turned aside, repeated themselves or even gone backwards (e.g. two characters who hate each other one chapter, make up in the next, and have mysteriously gone back to hating each other in a third, for no discernible reason).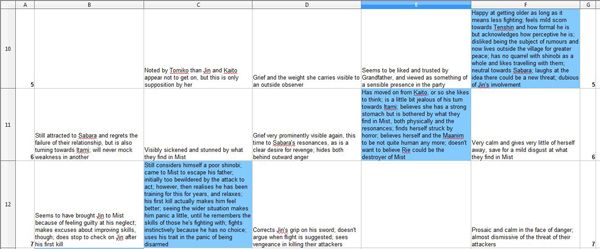 In this example, you can see the five columns for the five characters, blue boxes denoting whose POV a chapter is, and my notes on how their character arc has progressed (which, depending on your eyesight, you may or may not be able to read!). The next stage – already nearly finished – was to work out how I wanted each finished arc to be (as opposed to how they are at the moment), and decide how each existing chapter needs to be tweaked to achieve that goal.
It's been a complex process and one that, I have to admit, may have been more complicated than it needed to be. In developing each 'new and improved' character arc, I've come across only half a dozen places where major changes need to be made – most of the arcs will follow a very similar path in the final draft as they did in the first.
The difficulty, of course, is in knowing whether that means I got the characters right in the first draft, or whether I'm not making big enough changes in the edits. As to how to answer that… Well, I honestly don't know at the moment. I can only hope that the overall, finished book is a success – and that's something only readers and critiquers will be able to tell me!