In amongst all my writing resolutions for 2012, I decided that it was time to take on another hobby, and a useful one at that. Last year saw the inauguration of our (reasonably successful) vegetable patch, which will be planted anew this spring. Then there's reading, which I've resolved to do more of, and gaming, which takes up a lot of my non-work time (blame Skyrim for that at the moment).
I wanted a new hobby that was more of a craft, though, with which I could make something useful. Now, I hate sewing (too fiddly), and I'd never taken to knitting when I was younger, but I decided it was time to give it another go. Knitting, I reasoned, would be relatively easy to learn, and I could actually make things I wanted to wear – I love scarves, and gloves, and thick warm jumpers. Perfect.
Somewhat to both my surprise and my mum's, I started to learn to knit, picked it up quite quickly, and have enjoyed what I've done so far. After the initial knitting-the-same-thing-over-and-over-again to get the hang of what I was doing, I decided to try my hand at a simple ribbed scarf. The first few inches (and proof that I have actually learnt something!) are below.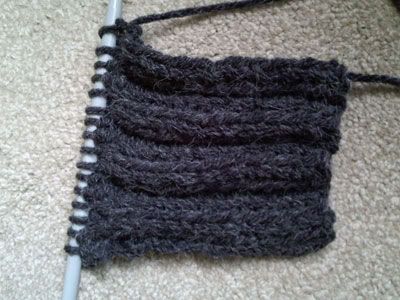 It's not perfect, and the imperfections are much more apparent close up, but it's been a lot of fun to make. Knitting also reminds me of writing: both require simple building blocks (knit/purl stitches, and of course words), but the order of and consistency with which those blocks are used has a huge effect on the outcome. Those two simple stitches can be used to create just about any knitted item, and whilst there are far more than two words, their relative simplicity is still key to so much we do as humans, be that spoken or in writing.
Anyway, back to the matter at hand: knitting, and other hobbies. If you knit, or sew, or similar, what do you most like to make? What tips can you give me? And if you're not into crafts, what hobbies do you enjoy when you're not writing, and need to give your brain a rest?